CIRCLE Women Doc Accelerator 2023 | Extended deadline March 6 | Call for projects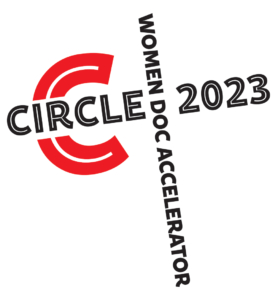 CALL FOR PROJECTS
CIRCLE Women Doc Accelerator is looking for 10 woman-identifying filmmakers (directors or producers) with strong creative documentary projects in any stage of production to apply for the upcoming sixth edition of the program.
Selected participants will have the opportunity to develop their films with renowned experts in the field of documentary filmmaking, to broaden their professional and personal networks and position their projects in the European and international documentary film scene.
Through three working modules, CIRCLE fosters project development, but strongly focuses on knowledge-sharing and development of professional skills, all the more by connecting participants of the programme with the rest of the film industry and giving them access to world-renowned mentors.
CIRCLE 2023 features 3 tailor made sessions in 3 different countries, with each session focusing on a different key aspect of project development:
Module 01: June 2023, Greece
Creative development and in-depth analysis of projects
The first module focuses on creative development and analysis of the projects. With the mentorship of expert directors, script-writers and producers, each project is thoroughly addressed in order to pinpoint its strengths and potential. Combining individual consultations with group sessions, the goal of this phase is to expand participants' perception of their films and devise new strategies for resolving any potential issues they may have faced in their creative journeys. These sessions are reinforced by masterclasses, film screenings and other activities.
Module 02: September 2023 (Location TBC)
Project packaging
In addition to further creative development of the projects, the second module is dedicated to the packaging, marketing and financing of feature documentaries. Each project has its own distinct needs, so the goal is to devise tailor-made production and communication strategies in order to raise international visibility and financing potential of the projects. Here, the participants will be working with leading experts specialized in packaging and marketing, as well as international co-productions and legal matters.
Module 03: January 2024, Trieste, Italy
Networking at When East Meets West / Trieste Film Festival
Finally, during the course of the third module, the participants will have the opportunity to present their projects to potential partners and decision makers during the When East Meets West co-production market in Trieste, Italy. They will have access to all the Industry events, as well as film screenings, and will enjoy the benefits of networking with a wide array of professionals in the European documentary field.
HOW TO APPLY?
In order to apply, please fill out the online form!
Timeline of application process:
New Submission deadline: March 6, 2023
Announcements of the results: April 2023
Fee and Scholarship: 
The participation fee (3600€) covers mentorship, accommodation and meals for all three modules, as well as a variety of offers by our partners. CIRCLE Women Doc Accelerator may allocate scholarships for participants from low capacity countries in need.
Awards: Each year, participants are eligible for CIRCLE awards, with the support of our partners.
CIRCLE  Women Doc Accelerator is looking forward to reading your projects!
For questions please contact info@doccircle.me.
CIRCLE Women Doc Accelerator is an exclusive annual training programme, open to up to 10 women-identifying directors and producers each year. They come to CIRCLE to develop documentary projects with strong international appeal in various stages of the filmmaking process (from development to rough cut). CIRCLE Women Doc Accelerator acts as a springboard for instigating transnational collaborations, and, through this, empowers women audiovisual professionals (particularly those coming from disadvantaged circumstances) to achieve their full, international potential. The main mission is to empower women in the film industry and increase the visibility of women-identifying authors and filmmakers in broader Europe and general. Since the founding in 2018 50+ women have been supported.
To find out more about the program, participants and experts, as well as previous editions of CIRCLE, please visit www.doccircle.me.
Facebook: https://www.facebook.com/circle.accelerator
Instagram: https://www.instagram.com/circlewomendocaccelerator/