WEMW opens the second round of calls for the EAVE Slate and Inspirational Labs! 
Trieste, January 21/24, 2024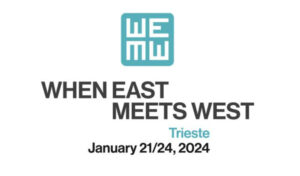 Only one day to go before the deadline of the Co-Production Forum call for projects in development, and it's already time to launch a second round of WEMW programmes focusing on career boost, acceleration in strategic company development and reinforced company sustainability.
Starting from today and until November 20, European producers have the chance to apply to the third edition of EAVE Slate, an innovative programme that will offer consultancies on how to build a successful company slate and strategic company planning to companies that are developing a slate of A/V works.
Until November 20, producers coming from Europe, Canada and Latin America will also be able to apply to one of our Inspirational Labs, a series of mini-workshops meant to stimulate selected participants to develop new content and explore new business models. Run in collaboration with leading training programmes and international partners, the eight Labs will offer a deeper insight on drama series content, animation production, impact & outreach strategy, online distribution and co-financing, video game development, genre film production, virtual production and East & West International Co-Production.
EAVE Slate & Inspirational Labs at a glance!
EAVE Slate
EAVE Slate will select up to 12 European and Latin American companies that are developing a slate of A/V works and will combine the EAVE group work method with a series of plenary sessions and individual consultancies focusing on strategic company planning, potential risk evaluation and company diversification. The main goal is to define realistic short-, mid- and long-term strategies for the selected companies and to outline how to pick the right projects to include in the company slates.
ANIMA SPIRIT | Animation Inspirational Lab
in partnership with CEE Animation Workshop
ANIMA SPIRIT is designed as an entrance door for experienced producers and film companies coming from live action or documentary, wanting to discover the exciting and complex world of animated film production. The Lab will combine group work, individual consultancies, and lectures on financial and creative aspects of animation production.
The Lab is hosted by the CEE Animation Workshop team and led by experts Martin Vandas (producer, Czech Republic) and Agne Adomene (creative producer at Art Shot studio, Lithuania).
COLD OPEN | Drama Series Inspirational Lab
in partnership with MIDPOINT Institute
COLD OPEN will once again select international producers, with a background in feature films, who aspire to shift to drama series content. The programme will be led by MIDPOINT Institute's tutors and experts, and will include lectures, group sessions and individual consultations, aiming to supply hands-on skills of development, production planning and financing of serialised drama content.

EAST & WEST | Co-Production Inspirational Lab
in partnership with WEMW
A complete journey through the main co-production and distribution opportunities offered by Europe and Latin America, with a focus on the most dynamic regional and national funds, but also on the Eurimages, Ibermedia and Creative Europe support schemes.
The Co-Production Inspirational Lab is specifically designed for upcoming producers that need to acquire the necessary tools to co-produce films and other audio-visual formats in the international marketplace, and will include lectures, exchange sessions with leading industry key players and successful East & West co-production case studies.
FILM MEETS GAMES | Video Games Production Inspirational Lab
in partnership with SpielFabrique
The video game industry is reaching USD 200B and targets everybody on a global basis! The FILM MEETS GAMES Inspiration Lab is offering an expert glimpse of the opportunities through understanding how to position, finance and distribute a game. The Lab is developed with pan European game ecosystem catalyst SpielFabrique with the support from renowned experts. It offers keynotes and personal support to filmmakers wishing to expand to video games.
GENRE RULES | Fantastic Film Inspirational Lab
in partnership with the Fantastic Film Forum of the Trieste Science+Fiction Festival
GENRE RULES is meant as a hands-on guide to the inner workings of genre cinema. Even though genre movies today are more popular and marketable than ever, producing them may not prove so easy. The genre film industry is highly specialised, with key players, industry events and subgenres of its own, and constantly changing trends. This lab is designed to provide an in-depth overview of this sector and will focus in particular on the best strategies to develop your project and effectively place it in the market. The workshop targets independent producers and new talents with an international attitude, who wish to improve their skills and become acquainted with the genre film landscape.
IMPACT ZONE | Outreach & Impact Inspirational Lab
in partnership with ESoDoc
ESoDoc's lab at WEMW will focus on the design of impact campaign strategies. During the workshop, participants – selected both from documentary and fiction genres – will work on their impact loglines, goals and key action steps. The main objective is to enhance participants' understanding of the value of impact and what it can achieve for their productions and society, introduce them to a range of tools they can use to design and deliver policy impact, and give participants specific project advice and guidance.
THE ON DEMAND ECOSYSTEM | VOD Inspirational Lab
The VoD Inspirational Lab is a unique opportunity to better understand the diversity of the VOD landscape and the dynamics behind the on-demand ecosystem. Through a series of lectures, case studies and masterclasses, sharing data and know-how on the current VoD market and players, the Lab will help the participants to plan ahead the online distribution strategy and co-financing of their content, answering to the audience demand.
VIRTUAL INNOVATION | Virtual Production Inspirational Lab
in partnership with European Virtual Production Alliance
"Demystifying VP and its applications for independent productions and industry"
Virtual Production has undoubtedly been one of the most spoken-about industry innovations of recent years, yet for independent industries, it remains a practice shrouded in mystery. Is it only about hyper-expensive LED screens and blockbuster productions, or will this novel approach also revolutionise independent productions?
The VIRTUAL INNOVATION Lab, organised in partnership with European Virtual Production Alliance – an industry network of Europe's leading virtual production experts and studios, will demystify virtual production once and all for independent industry leaders from financiers decision makers to producers, VFX supervisors, and below the line crew. This Lab will look into different forms of VP, including In-Camera VFX, LED production, previsualization, virtual cameras, and set capturing, as well as into how to assess VP suitability for your production, how to budget and plan the workflow, and how to manage the process from start to finish successfully. The Lab will also present recent case studies from awarded European festival favourites and feature films and TV series to give the participant a 360-degree look into the world of V.
APPLICATION & DEADLINE
It is possible to apply to max. 3 different labs, but it will be possible to attend only one Inspirational Lab. To apply, visit WEMW website.
The deadline for both the EAVE Slate and the Inspirational Labs is November 20, 2023.
In case you have already applied to other WEMW activities (e.g Co-Production Forum or Works in Progress sections), you can also apply to the EAVE Slate and the Inspirational Labs.
LOCATION & SELECTION
The EAVE Slate and Inspirational Labs activities will take place at the WEMW venues in Trieste. The final selection will be primarily based on the applicant's profile and motivation, and all selected participants will also have the opportunity to join the rest of the programme of WEMW.
PARTICIPATION FEE & SCHOLARSHIPS
The participation fee for the EAVE Slate is € 450, while for each Inspirational Lab is € 250. The fee includes the WEMW accreditation, the EAVE Slate/Inspirational Lab tuition fee, lunches and coffee breaks.
*Please note that the participation fee will be waived for all Ukrainian selected participants.
**Thanks to the support from our network of regional/national funds, a limited number of producers from certain regions/countries will be able to access partial/full scholarships. Please contact us at inspiration@wemw.it for further info.
INFO DAY
If you wish to get more info about the Inspirational Labs and the EAVE Slate, please join our INFO DAY on Thursday November 2 from 11.00 to 12.00 (CET timezone). To confirm your attendance please fill in our registration form no later than October 31.
We look forward to being once again inspired all together next January!
More information are available at www.wemw.it
Follow us on Facebook and Instagram! 
WEMW 2024 is organized once again by the FVG Audiovisual Fund in collaboration with the Trieste Film Festival, EAVE, Creative Europe Desk Italy and thanks to the precious and constant support of Creative Europe MEDIA, MIC – Direzione Generale per il Cinema, CEI – Central European Initiative, Film Center Serbia, Ciclic – Centre-Val de Loire Region, and the Autonomous Region of Friuli Venezia Giulia.
October, 25, 2023