11 Projects Selected for Alliance 4 Development 2023
news announcing the 2023 selection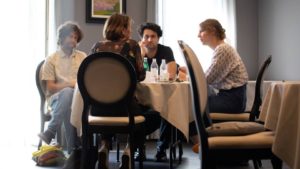 Alliance 4 Development (A4D), the co-development program for film projects from Austria, France, Germany, Italy and Switzerland hosted by Locarno Pro, has announced the 11 projects selected for its upcoming 8th edition. The aim of the program is to future-proof the market potential of the projects and foster long-term creative and business ties between the targeted countries.
From 4 to 6 August, the delegates of the 11 projects, which were chosen out of 74 submissions, will be guided by international experts on their presentations, partake in one- on-one meetings with potential partners, and attend panels and high-profile networking events.
The three-day program will culminate in an award ceremony, where the projects have a chance to win one of the awards provided by various partners: the Alphapanda Market Breakout Award, consisting in consultancy services in the value of 3'000 €; a script consultancy residency at DreamAgo, offered by the Valais Film Commission, worth 5'000 CHF; the MIDPOINT Consulting Award for an in-depth online script consultancy with one of the MIDPOINT Institute experts; and the Ticino Film Commission Residence Award, consisting of a 2-day location scout (worth 4'000 CHF) and Letter of Intent (LOI) for financial support for the production company (worth up to 12'000 CHF), if all or part of the film will be shot in Ticino (Switzerland).
Francesca Palleschi, project manager of Alliance 4 Development, comments:
This year's selection presents a variety of genres, themes, and visions in a dynamic balance between emerging and more established filmmakers. We are proud to support these projects, including several debuts and more than half helmed by female directors, along the path of their development.
The selected film projects for Alliance 4 Development 2023 are:
Calm directed by Sara Fattahi, produced by Sabine Moser and Oliver Neumann (FreibeuterFilm GmbH, Austria)
ll principe Aden (Prince Aden), directed by Gianluca and Massimiliano De Serio, produced by Alessandro Borrelli (La Sarraz Pictures, Italy) in coproduction with Luis Urbano (O Som E A Furia, Portugal) and Lionel Massol (Films Grand Huit, France)
Irina Makinskaia (working title), directed by Alexandra de Saint-Blanquat, produced by Omar El Kadi and Nadia Turincev (Easy Riders Films, France)
La Passion d'Aline (The Passion of Aline) directed by Rokhaya Marieme Balde, produced by Linda Vogel, Cyril Schäublin, Chantal Scheiner (Seeland Filmproduktion GmbH, Switzerland)
La P'tite (The Young One) directed by Despina Athanassiadis, produced by Quentin Daniel (Wombat Films, France)
Mila/Marija directed by Andrina Mračnikar, produced by Alexander Dumreicher- Ivanceanu & Bady Minck (AMOUR FOU Vienna, Austria) and Daniel Hočevar (Vertigo Ljubljana, Slovenia)
Objet a, directed by Ann Oren, produced by Kristof Gerega, Sophie Ahrens, Fabian Altenried (Schuldenberg Films, Germany).
Pas Ta Maman directed by Michèle Flury, produced by Jochen Laube, Fabian Maubach and Felix Schreiber (Sommerhaus Filmproduktion, Germany).
To Put Out One Fire, directed by Jela Hasler, produced by Olivier Zobrist (Langfilm, Switzerland)
Urania, directed by Pier Lorenzo Pisano, produced by Domenico Procacci and Laura Paolucci (Fandango, Italy)
Who/Man directed by Lorenz Merz, produced by Michela Pini (8horses, Switzerland).
Recent hit titles to have come out of the program include Berlinale 2023 entries Music by Angela Schanelec and L'Amour du Monde by Jenna Hasse; Chicken for Linda by Chiara Malta and Sébastien Laudenbach (Cannes ACID & Annecy 2023); Continental Drift by Lionel Baier (Quinzaine des Réalisateurs, Cannes 2022); and Semret by Caterina Mona, which debuted on the Piazza Grande at Locarno75.
Alliance 4 Development is possible thanks to partnerships with CNC (Centre national du cinéma et de l'image animée), France; FFA (Filmförderungsanstalt), Germany; DGCA-MiC (Direzione Generale Cinema e Audiovisivo del Ministero della Cultura), Italy; ÖFI (Österreichisches Filminstitut), Austria; the Federal Office of Culture (FOC) / MEDIA Desk Suisse, Switzerland. A4D is also made possible by contributions from Eurimages, which promotes and sponsors one of the initiative's networking events, and from the European Producers Club, which offers consultancy on the various issues covered.
The Project Manager of the Alliance 4 Development is Francesca Palleschi.